Hang Gieng Vooc
HANG GIENG VOOC (Gieng Vooc Cave)
Hang Gieng Vooc belongs to the protected area of Tro Mong Ranger Station, located in the ecological restoration zone of Phong Nha – Ke Bang National Park. The cave is about 1 kilometer from Mooc Spring Ecotourism Site to the southeast and the entrance is about 100 meters far from Western Ho Chi Minh Trail (about 100m from Chay Bridge to Mooc Spring).
Hang Gieng Vooc's entrance faces south, with a height of 0,7 m and the width of 2,3 m. The cave has a total length of over 400 m, an average width of under 15 m. Its ceiling is sometimes quite low (3 -20 m high). The real stream and 4 lakes inside the cave will amaze you in every day. Stalagmites and stalactites are distributed mainly from the entrance to the first lake and are on the cave wall, the ceiling and the floor.
Although the cave is short, it contains spectacular and unique stalagmites and stalactites – hanging from the ceiling and rising from the ground like a waterfall, stone column,… formed by force of gravity; some look like slate, stone sticks, stone flowers, white cheese,….made by crystal structure; tectonic formation of stone edge, a custard apple-shaped cave pearl formed by water.
BONG LAI LAKE
Bong Lai Lake is located about 1km from the Hang Gieng Vooc to the Southeast. Bong Lai Lake – true to its name "Bong Lai" (means "Paradise" in Vietnamese). After a long trekking journey, Bong Lai Lake will be a great stop by the turquoise water reflecting the sky, the two sides are surrounded by the forest canopy, making visitors feel like floating in the clouds. Bong Lai Lake water flow is cool and cool thanks to the water flow from the bottom up to form a lake about 60m wide, 10m deep, with a depth of up to 20m. Surrounding the lake are pristine stone plaques, contributing to the poetic and no less wild, an invaluable gift that Mother Nature gifted.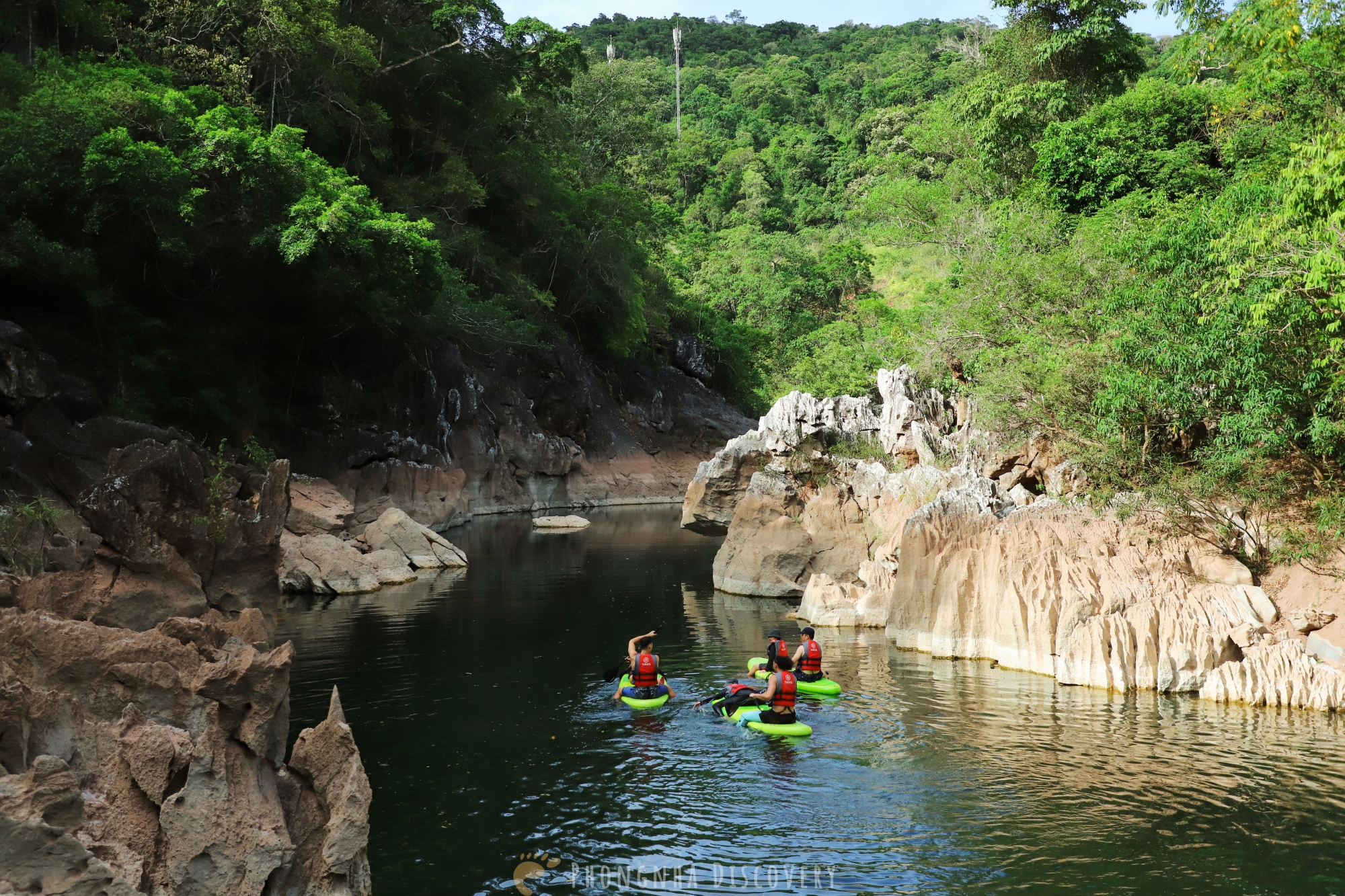 Bong Lai Lake is the highlight of the tour to discover Gieng Lang cave, visitors have the opportunity to experience SUP paddle, kayak and immerse themselves in the cool water like this "Bong Lai" place.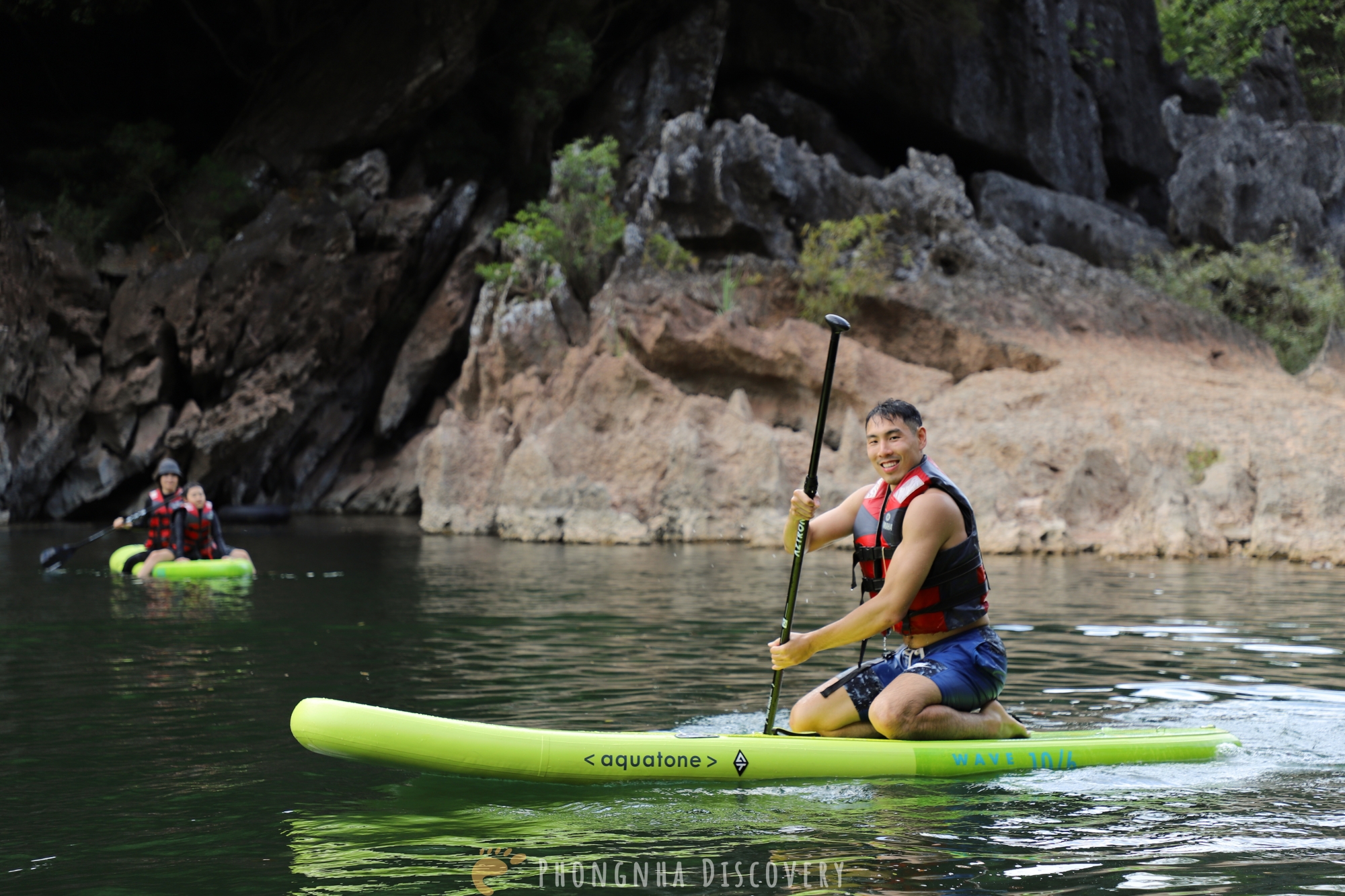 It can be said that anyone who has ever discovered the World Natural Heritage of Phong Nha – Ke Bang National Park will find it extremely mysterious and enchanting because the beauty here is experienced, it will go from this surprise to other surprises. The pristine beauty of the Hang Gieng Vooc – Bong Lai lake, too, this place is expected to be a tourist attraction attracting many tourists when coming to Quang Binh.
To book a tour to experience and discover Hang Gieng Vooc, please contact Phong Nha Discovery via hotline (+84) 941 24 73 73, send an email to booking@phongnhadiscovery.com or you can come directly to our office. Sincerely thank you!