The legendary Ho Chi Minh trail
The Ho Chi Minh Trail was the Vietnam War era collection of mud tracks and jungle trails connecting Ho Chi Minh's North Vietnam to his fighters in South Vietnam. Key sections of the trail were located around Phong Nha Ke Bang.
As you explore the Phong Nha Ke Bang area, you'll notice a high number of war memorials. Even more than you might see elsewhere in Vietnam. These are the reminders of the area's key part in the wartime Ho Chi Minh Trail - the supply line that kept Ho Chi Minh's forces supplied with personnel, weapons and food in the US-backed South Vietnam.
The Ho Chi Minh Trail is considered one of the extraordinary logistical feats of the war. It consisted of thousands of kilometres of tracks rather than a single road and ran from North Vietnam into Laos and Cambodia before looping back into what was South Vietnam.
The significance of the Phong Nha area stemmed from its proximity to the old border of North and South Vietnam and the border with Laos. Nearby Dong Hoi, the major city of the area and the capital of Quang Binh province, was also leveled by US bombing during the Vietnam War.
The Ho Chi Minh Trail was maintained in hostile jungle and mountain terrain. North Vietnamese soldiers and volunteers who built it only had access to the most basic technology. Trucks, tanks as well as bicycles and soldiers on foot, all traversed the trail.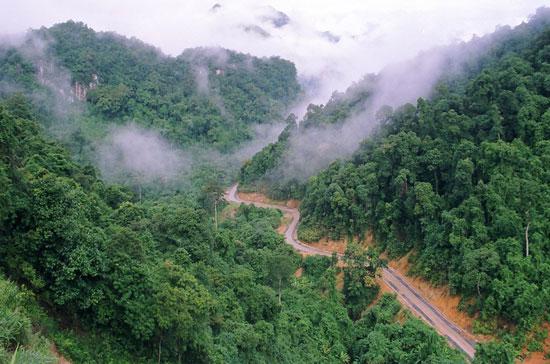 The trail remained a stable source of supply despite years of intense bombing. It was an essential contributor to the ultimate victory of North Vietnam and the collapse of the US backed government in South Vietnam in 1975.
There is a large monument to the heroes of the Ho Chi Minh Trail on the left as you arrive into Phong Nha - Son Trach. And as you explore, you'll spot many monuments large and small. They don't provide any information in English. But you can assume that they commemorate battles or major losses from aerial bombing.